SEA will celebrate its 20th Anniversary on April 5, 2013. SEA was founded in 1993 in South Florida on a simple philosophy
of delivering an exceptional product at a competitive price with great service. This philosophy has allowed SEA to consistently
be one of the fastest growing companies in the industry.

SEA relocated to Melbourne, Florida in 1997 and concluded a
recent facility expansion in 2010.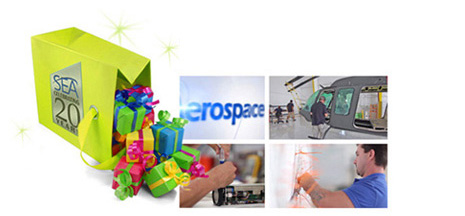 Through dedication, innovation, and unwavering diligence, Southeast Aerospace has enjoyed growth and success in each of its years in business. While our facilities, capabilities, personnel, and product offerings have expanded significantly over the years, SEA has maintained our commitment and support to our customers large and small. SEA truly understands the value of relationships and how they have helped us succeed over the years.

To celebrate SEA's 20th Anniversary, SEA wants to give you a thank you gift! We could not have accomplished our long history and success without our dedicated customers. You have contributed to our success!

View 20th Anniversary Testimonials & Comments (updated daily)

To extend our gratitude to you, SEA will be hosting several prize drawings throughout the entire year of 2013.