| | |
| --- | --- |
| | June 2016 |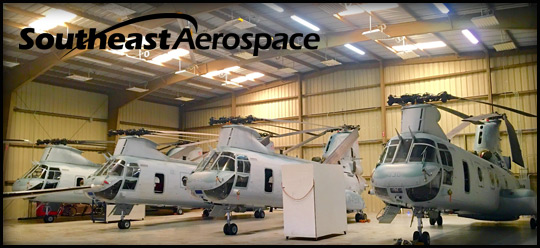 SEA CH-46 Special Mission Modification
SEA performed as a subcontractor to Dyncorp to support the DoS INL Air Wing CH-46 Aviation Services contract. SEA provided engineering design, A-Kit development and manufacturing, and touch labor for installation of modification A-Kits and B-Kits of the Missile Warning System and Countermeasures Dispenser System for 17 CH-46 helicopters. The Missile Warning/Countermeasures System is manufactured here locally by Extant Aerospace! SEA also manufactured and provided A-Kits and touch labor for the installation of the FlightCell DZM2 Satellite Tracking and Communications System on two CH-46 aircraft. Work was performed in Hangar 17 at our facilities in Melbourne, FL. As usual, schedule was a major concern as DoS had to meet a scheduled airlift. Once again, the dedicated team at SEA met that schedule!
A Brief History of the Boeing CH-46 Sea Knight
The Boeing Vertol CH-46 Sea Knight is a medium utility helicopter, developed for the Marines and Navy, and its primary function was to support assault forces. The CH-46 has two tandem rotors and engines, and the engines are coupled, so in case of emergency the Sea Knight can fly with only one engine operational. The Sea Knight, affectionately known as the "Phrog", was used for a variety of military task, including assault transport, carried supplies and equipment, combat support, search and rescue, forward refueling, and medical evacuation. This aircraft can accommodate up to 17 people in its cargo compartment and can carry various loads, including up to 4x 500 kg loads underslung externally. This workhorse cargo helicopter was retired from the Navy in 2004, and from the Marines in 2015, after 50 years of service.

Sources: Military Today & Boeing
In 2011, Southeast Aerospace expanded its Engineering department with an Engineering Office in Beijing, China. Gong De Shen was hired as an on-site Sales Engineer in the Beijing location. De Shen, a native of China, has an extensive background in Air Transport modifications and is retired from Ameco as a Manager of the Avionics & Electrical Department for 15 years, and brings more than 45 years of avionics engineering experience to SEA.

Gong describes his career: "Starting in 1980, I worked as a system engineer in SE, and was responsible for airplane avionics systems to issue documents required for maintenance, overhaul, modifications, and repair of the Air China and customer airplanes, release of MS/COSL, Release of engineering order(EO) based on Airworthiness directive(AD), Service Bulletin(SB) and Service Letter(SL) to request special checks and authorized repairs or modifications, support of maintenance and overhaul in trouble-shooting, Communication with Air China, manufactures on technical issue, review of reliability data's and developing of solutions (Modification or MS/COSL revision), and provide on-site technical support on the aircraft or in the shop if necessary. In 1989, I became the Manager of Dept. Elect. & Avionics/Engineering at Ameco Beijing.

I was in charge of many modifications, for example: SATCOM, W/R, TCAS, ACARS on B747-200/sp, B747-400, B757, B767, B737 aircraft. After I joined AEI in 2001, I helped AEI apply for STC and VSTC about ACARS, W/R, HF systems and procured all STC and VSTC for three airlines in China. I had a good relationship with Air China and CAAC and airlines in China through my career."
— HAVE FUN with Trivia! —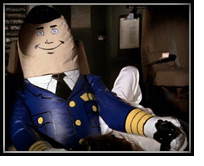 Do you know who this is?
Send your answer before the end of the week and all correct answers will be put into a drawing to Win!

Question (must answer all parts): Can you name this character? What movie did he appear in? And what is his function?!

*Submit your answer by June 17th

SEA Tech Credentials - Meet Jack Sharrow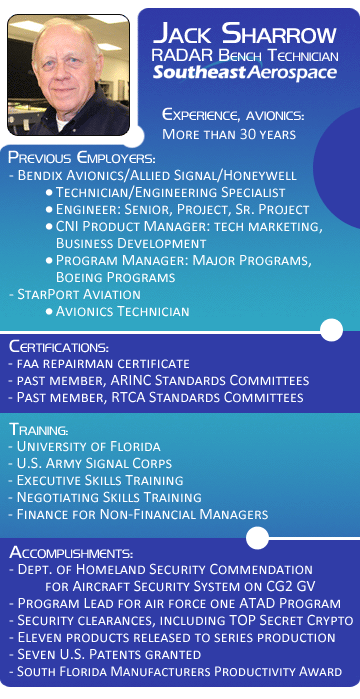 Southeast Aerospace - 1399 General Aviation Dr - Orlando MLB Intl Airport - Melbourne, FL 32935
T: 321-255-9877 - F: 321-255-9608 - E: sales@seaerospace.com - W: Parts.SEAerospace.com