Original Story by Dave Hughes, Printed in Avionics News, January 2022 Edition
Southeast Aerospace recently announced a new update that will soon be available for the Hawker 800 and 1000 series aircraft via two new supplemental type certificates. A member of the Aircraft Electronics Association since 1991, SEA has partnered with Universal Avionics to offer the latest EFIS technology – the InSight Integrated Flight Deck.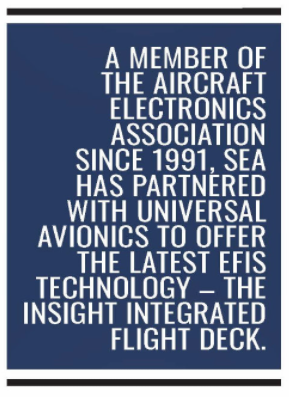 The InSight upgrade will also include optional full Datacom capability to meet requirements for FANS 1/A and CPDLC. Additionally, the Mid-Continent Instruments and Avionics' SAM MD302 is included as a replacement for the existing standby instruments.

The new aircraft STC programs aim to bring value to Hawker 800(A)(B)(XP) and 1000(A)(B) series aircraft through several significant new upgrades in the cockpit.

The Hawker 800 is a mid-size, turbofan-powered jet with a 2,500-plus nautical mile range and a service ceiling of 43,000 feet. It can carry eight to nine passengers and two to three crew. The 1000 series Hawkers are a stretched version of the 800 series with increased range and other benefits.

There were 650 Hawker 800 aircraft built in the three decades from 1983 to 2013 and double digit 1000s built. Even though these aircraft have been around for a long time, there hasn't been a comprehensive cockpit upgrade available until now. Southeast Aerospace plans to rectify this with two STCs currently in development, the first of which is expected to be approved in early 2022.

"The Hawker 800s have been mostly left alone (from major retrofits) across their whole lifespan," said Luke Gomoll, SEA's aircraft modifications expert. "A few updates have come out that didn't quite take off for several reasons. And there have been numerous small updates to single pieces of equipment in the cockpit, but there has not been a sweeping upgrade like this one offered by SEA before."

Gomoll said the Hawker 800 series aircraft owners love the stand-up cabin, but it is getting more difficult and expensive to maintain some of the cockpit systems, so SEA wanted to offer a comprehensive solution. The company is planning to replace the aging equipment with Universal's InSight Integrated Flight Deck.

The STCs will allow Hawker 800A, 800B, 800XP, 1000A, 1000B aircraft with existing Collins EFIS 85/86, along with FCS-80 and APS-85 autopilots and Honeywell SPZ-8000 avionics, to be upgraded. The autopilots will remain in place and are fully supported by Collins Aerospace and Honeywell, respectively.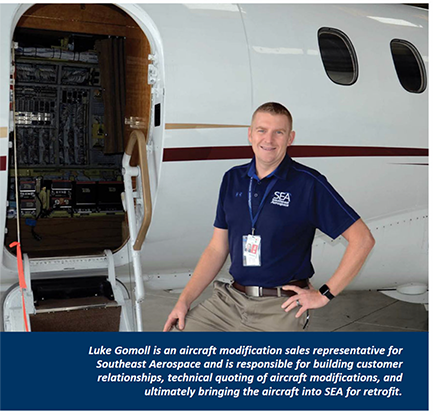 There are four major flight deck variations in the Hawker series aircraft, and SEA's STCs will address retrofitting three of them. The modifications will cost somewhere between $550,000 and $750,000, depending on the options selected.

"By upgrading with InSight, the flight crew can now take advantage of an intuitive human-machine interface with synthetic vision and advanced mapping capabilities, embedded electronic charts, radio control, and more," said Marc Bouliane, vice president of business development and marketing services for Universal Avionics.

Bouliane added that this will reduce pilot workload and increase situational awareness. Bouliane also cited InSight's modern maintenance capabilities, including remote diagnostic capability. This will likely appeal to Hawker 800 series owners struggling with maintenance issues.

"They (Hawker 800/1000 series owners) won't have to worry about having to swap displays out while they are trying to leave on a trip," Gomoll said. "They will have a new system that will eliminate all of those (types of) problems and give them greater value regarding dispatchability and controlling unforeseen maintenance costs."

This offering could help change the frustrations being experienced by a lot of Hawker operators. "Sometimes, they are beating their heads against the wall trying to get the support they need," Gomoll said. "Pilots complain, operators complain, and owners complain. So we've been listening to this for a while. That's when we started talking to Universal. We looked at the business case and decided to do it so these aircraft can fly a long time into the future."

Gomoll noted that hull values have been all over the place in the last couple of years. Still, in general, hull values are going up, and investing in the InSight flight deck upgrade will increase the aircraft value significantly. "It's a great upgrade (with Universal) to the aircraft, especially if you are chartering," Gomoll said. "You're removing a lot of equipment that is causing you problems here in these later years."

In the announcement leading up to the National Business Aviation Association's Convention & Expo in October 2021, SEA said it is looking for a Hawker 800 with an SPZ flight deck as the first article for the second STC. These flight decks have older CRT displays, so SEA will remove the four EFIS displays, a multifunction display, radio management units, the flight management systems, and some analog gauges.

The InSight system can connect to many different autopilots, data computers, radars and flight management systems. When Universal was founded in the early 1980's by Hubert Naimer, he invented the first flight management system in the industry. In 2007, the company received the first certification of an FMS capable of satellite navigation with WAAS/SBAS.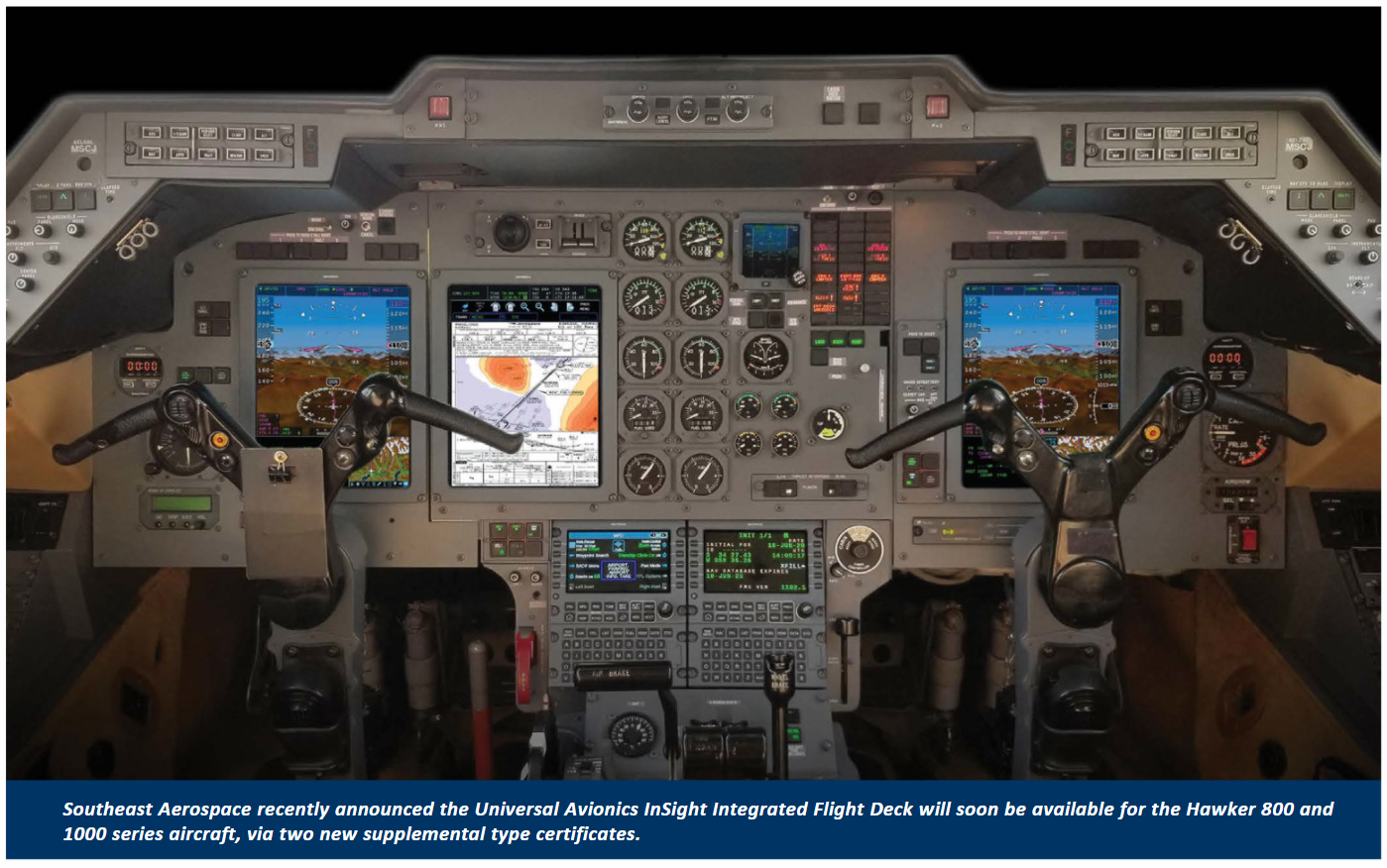 The Hawker upgrades will be compatible with all existing ADS-B solutions installed on this model aircraft, and flight identifications tuning of the transponders will be handled by the InSight ECDUs along with the WAAS position source being supplied to existing transponders.

Southeast Aerospace also offers to replace existing and older standby instruments with the solid-state Mid-Continent Instruments and Avionics SAM MD302 during the upgrade. This small self-contained instrument provides attitude, altitude, airspeed and slip information – critical input for pilots in case of primary instrument failure. It can be mounted horizontally or vertically.

In addition to the baseline EFIS upgrade, there is an optional datalink system available. It will meet the requirements for Future Air Navigation System 1/A, Controller-Pilot Data Link Departure Clearance, and Aeronautical Telecommunications Network Baseline 1 standards.

Southeast Aerospace is not new to the FANS 1/A and CPDLC game. In 2020, it secured an STC for a complete or partial retrofit of Citation 560 (V), Encore and Ultra cockpits.

This upgrade included Universal equipment for FANS 1/A and CPDLC, international cabin voice, and internet connectivity with Aviator 300D over Inmarsat SwiftBroadband and Wi-Fi using an Avionica avWiFi wireless router.

"We're heading in the direction of getting away from voice communications for everything in the air," Gomoll said. "So this upgrade allows pilots to be able to use departure clearance and CPDLC with a push-to-load capability. It also provides FANS over the ocean and support in European airspace. So what this all amounts to right now is shown by the saying these modified aircraft will be best equipped and best served (by ATC).

"Customers can reduce the amount of time they spend in holding patterns orbiting near airports, and now they will be getting it on the ground, which is going to reduce the time in the air and the cost of operating the aircraft. It also gets the aircraft in the air faster, so you burn less fuel on those trips."

One of the challenges aviation manufacturers have faced since the pandemic started was getting their products in front of customers. This was especially difficult with trade shows across the country being canceled in 2020. Universal Avionics chose to invest in a mobile demonstrator with an InSight cockpit that could travel so customers could see the products firsthand.

The Universal Avionics demonstrator visited Southeast Aerospace in March 2021. Gomoll said it helped him show some customers what InSight is all about and raise awareness about the STCs the company was working on for Hawker 800 and 1000 series aircraft.

This writer was able to see the Universal Avionics demonstrator firsthand in early 2021. The Universal InSight Displays featuring embedded synthetic vision feature a rectangular electronic flight instrument measuring 9.86 by 7.86 inches. The size is larger than the square displays offered by Universal Avionics in the past.

"We realized there was no way that we could exhibit and meet with our customers (during the pandemic) unless we did something different," said Dror Yahav, who became Universal Avionics' chief executive office after it was bought by Elbit Systems Ltd. In 2018. Yahav was Elbit's vice president for commercial aviation when Universal became part of the company.

Gomoll said they were excited to add these new STCs to the current STC library, which is continually growing. In addition to the Hawker STCs, Southeast Aerospace is at work on multiple addition STCS, two of which revolve around offering a cost-effective solution to replace instantaneous vertical speed indicators and electronic standby instrument units in Part 25 aircraft by utilizing Garmin's GI 275 electronic flight instrument.

Southeast Aerospace was founded in 1993 and supports the needs of government, corporate, and general aviation fixed-wing and rotary-wing aircraft around the globe. In addition to engineering, design and STC development, the company provides avionics installation and upgrade, component repair, mission systems aircraft modification and completion, as well as support of government programs as a prime and subcontractor.

Southeast Aerospace has been steadily growing its manufacturing capabilities with a machine shop including 3-axis and 5-axis computer numerical control milling machines, as well other CNC equipment including a lathe, turret punch, press brake, and water jet, along with a laser engraver and 3D printer. The company employs 125 people.

Southeast Aerospace also has a team dedicated to outright and exchange avionics parts sales. It offers shipping of avionics parts and equipment worldwide, and customers can view real-time prices and delivery of parts on its website. This parts business, including AOG services, is how many customers come to know SEA.

SEA is based at Melbourne Orlando International Airport, located in Brevard County, Florida. The airport has been named the No. 1 Scenic Airway in North America by PrivateFly.com and serves as the coastal gateway to Central Florida.