SEA is pleased to announce receipt of the Federal Aviation Administration (FAA) Supplemental Type Certificate (STC) number SA04529AT to install their mission console in the Cessna 206H series aircraft.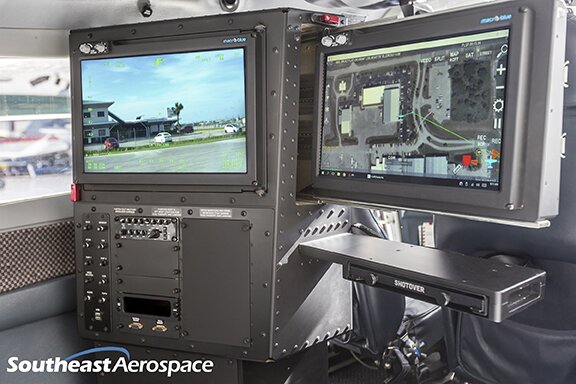 The fully assembled mission console was designed and manufactured by Southeast Aerospace for the Cessna 206H aircraft. The console provides a flexible installation solution for mission equipment with over 19 inches available for DZUS mounted equipment. The console installs on the existing seat tracks, replacing the forward left-hand passenger seat, with no airframe modifications required. This design simplifies installation, which can be completed in less than one hour. The console features a retractable second monitor and keyboard arm for use with the Churchill keyboard, meeting FAA safety requirements for the head strike zone. The standard configuration assumes two Macro-Blue MB15W or MB17W monitors but is also available with a blank panel option, to be customized by the installer for a variety of monitors.
"We pride ourselves on our craftsmanship. We originally developed our 206H mission console design for the Florida Highway patrol. After installing the console in two aircraft and then highlighting it at many of the APSA regional meetings, we decided to take steps to support agencies all around the globe by obtaining STC Certification. SEA wanted to provide agencies the option of installing the mission console while still working with their local shop. Our goal for operators using this mission console is to help them be as effective as possible in gathering the data they need to perform their various missions," stated Nathan Hernandez, Business Development Manager.
For further information, please contact Business Development/Sales Manager Nathan Hernandez, nathan.hernandez@seaerospace.com.