Southeast Aerospace is pleased to announce the 20th anniversary at our MLB location. Although SEA has been in business since 1993, May 30th 2017 marks the beginning of a 3rd decade of prosperity in the Melbourne Florida area.
Southeast Aerospace was founded by the Braddock family in Ft. Lauderdale Florida; John B. Braddock III presented the business idea to his wife and two sons after working in the industry 20 years and seeing the need for a higher standard of product and service.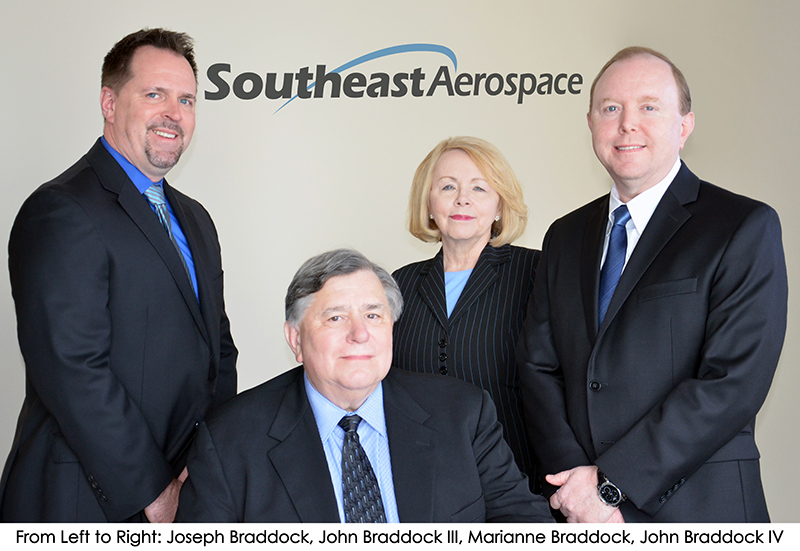 "SEA was founded in 1993 by aviation professionals, who sought to raise the standard of products and services being offered to the aviation community." – John B. Braddock III, Founder
After making it in the avionics business for several years in the overly saturated Ft. Lauderdale market, the Braddock family began discussions of a new location for better opportunities. They had often travelled to the Melbourne area for weekends away from crowded South Florida, and youngest son Joe had experience with the MLB airport due to cross-country flight training. The centrally located and spaciously designed Melbourne Airport was quickly recognized for the potential it presented to their budding business. The decision to transition was made and the rest is history!
Growth in Numbers
SEA began as 4 family members dreaming about their own business, and grew into a locally supporting company employing over 100 people in Melbourne, FL. Not only did the employment numbers grow, but so did the facilities required, progressing from renting an office space to acquiring 5 hangars and 2 office buildings, totaling over 100,000 square feet.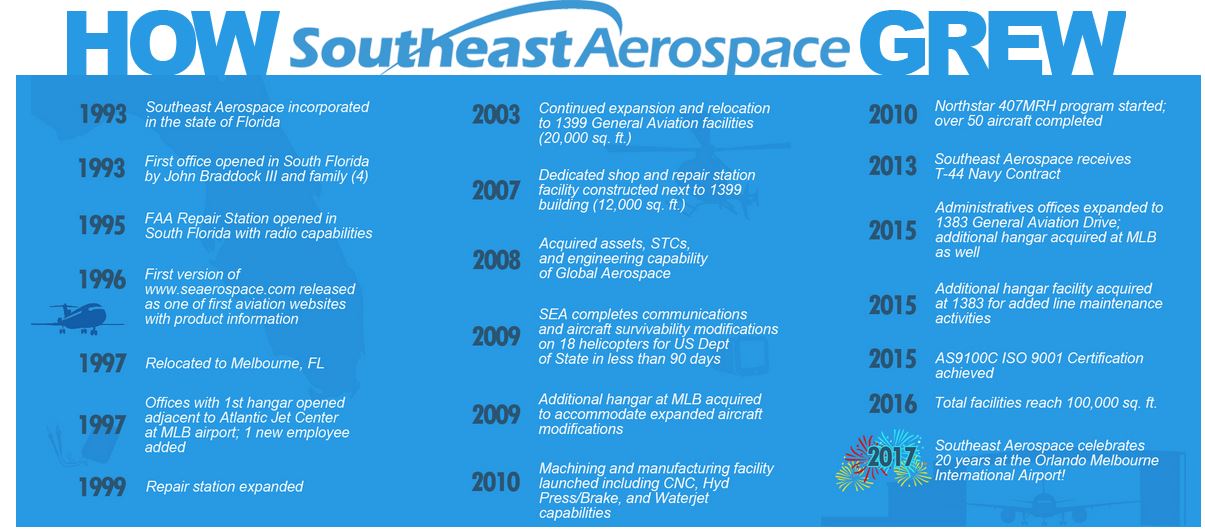 Who We Are
Southeast Aerospace is a unique avionics source providing:
Avionics and Instrument Parts Sales
MRO Services
Aircraft Modifications and Installations
In-House Engineering Services
Special Missions Project Management
Avionics Kit Fabrication
Structural Manufacturing
WE ARE COMMITTED to quality and customer service. We are dedicated to providing the highest quality products supported by the best warranty in the industry.
OUR APPROACH to business is best described as direct, clear, and honest. SEA provides all customers and vendors with a 100% commitment to honesty and integrity.
---
See More News & Info
Posted Date:

4/25/2017

Share on LinkedIn