Garmin announced several new products at the 2017 NBAA convention giving pilots more display options in the cockpit. Below is a summary of these announcements and a link to visit for additional information.
G500 TXi, G600 TXi, G700 TXi and EIS TXi

Three displays available including a 10.6- inch display, and two versions of the 7 inch displays.
Through any combination of the touchscreen or dual concentric knobs, pilots can quickly access and view flight information at a glance.
The TXi family boasts a geographical map overlay within the horizontal situation indicator (HSI) on the PFD, which also supports the overlay of NEXRAD, Flight Information Service-Broadcast (FIS-B) weather, SafeTaxi airport diagrams, traffic, terrain and more.
Powerful dual-core processors boost the system's graphical display capabilities — with faster zooming, panning and map rendering.
TXi makes it easy to scale a system that will fit your panel and price range.
Supports a single display to a full-suite installation comprising up to 4 displays in your panel.
For more information about the TXi series, please visit: https://www.garmin.com/en-US/blog/aviation/flight-displays-engine-monitoring-solutions-reimagined-g500-txi-g600-txi-g700-txi-eis-txi/
GWX 80 Weather Radar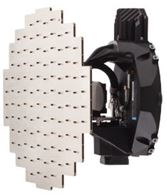 Automatic 3D Volumetric Scanning
Predictive Wind Shear Detection
Hail and Lightning Prediction
Advanced Ground Clutter Suppression
Doppler-enabled turbulence detection
High-definition color palette helps pilots more easily interpret the severity of an individual storm cell or multiple storm cells in an area.
For more information about the GWX 80 Weather Radar please visit: https://www.garmin.com/en-US/blog/aviation/announcement-new-doppler-weather-radar-business-commercial-military-aircraft/
---
See More News & Info
Posted Date:

10/30/2017

Share on LinkedIn