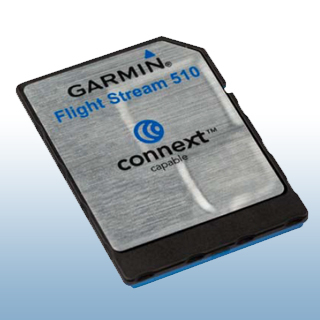 Garmin has once again taken the aviation world by surprise providing new, exciting products and updates to existing products that make sense, help pilots, and invigorate the market. Below is a list are some highlights of the announcements:
FLIGHT STREAM 510
The new Flight Stream 510 will revolutionize how Garmin users manage databases with wireless technology.
The Flight Stream 510 is an SD card with built-in Wi-Fi and Bluetooth capability. The card installs into the existing card slot of the GTN series units and updates the databases throughout the cockpit between GTN units as well as G500/600 glass displays. Other added features of the Flight Stream 510 include two-way flight plan transfer between GTN 650/750, sharing of traffic, weather, GPS info, back-up attitude info, and text messaging though a compatible mobile device.
The Flight Stream 510 will be available in early August for a list price of $1495. Normal terms and conditions
of Garmin Dealer Installation Policy apply.
---
NEW GTN SOFTWARE UPDATES




Improving on an already powerful, capable product, Garmin announced new, expanded features for the popular GTN 650/750 touchscreen navigators.

New features include:

Voice command control: Over 300 spoken commands at the push of a button through the GMA 35/350 auto speech recognition
Pinch to Zoom Interface: Similar to features on smartphones or tablets; zoom in/out on pages now with this feature
Flight Stream 510 capability: Incorporate wireless technology into your aircraft with software update and the Flight Stream 510
Text & Voice Call Control: Also with Flight Stream 510 and update, users can pair to an Apple mobile device for text and voice via GSR 56 datalink
Also additions with the software update include radio availability during power-up before engine start, flight track vectors, clear-all function, and pilot selectable SafeTaxi diagram descriptions.

ONE PAK
New, more cost effective options are now being given to Garmin users through Garmin's new OnePak Database bundling.
OnePak bundles allow customers to download datbases to multiple Garmin avionics and portables for one low price. Now updates for the GTN 650/750 as well as GNS 430W/530W range from a single update of $129 to an annual subscription of just $299. Bundle updates including all data (nav, obstacles & terrain) range from $449 to $649 for annual subscriptions. In addition, OnePak can cover your entire Garmin avionics package in your aircraft for one low price. From $649 to $924 including FliteCharts.

Garmin has not only made the database updating process easy but very affordable now.

PROMOTIONS & REBATES

In addition to announcing new products and updates, Garmin is offering big savings on ADS-B products and other product packages. Some of these special offers include:
Up to $2000 savings on various Garmin products when purchased with an ADS-B product such as the GTX 335/345, GDL 84/88 or GTX-330/33ES
GTN 625 / GTX345R package for $9940 List or Aera 660 / GTX345 package for $6195 List
$500 Off List Price for the GDL 84/88 series ADS-B products
$100-$200 seminar bucks during EAA AirVenture OshKosh
For complete details on any of these products or special offers, please
contact Southeast Aerospace today