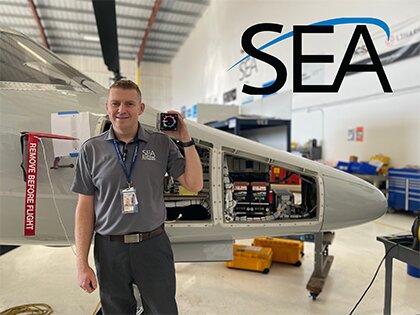 Southeast Aerospace is pleased to announce receipt of the Federal Aviation Administration (FAA) Supplemental Type Certificate (STC) number ST02004WI for the installation of the Garmin GI 275 3.125-inch round display Electronic Flight Instrument in Part 25 aircraft on an Approved Model List as an Instantaneous Vertical Speed Indicator (IVSI).
SEA joined with Garmin Ltd. (NYSE: GRMN) and Peregrine to develop a cost-effective solution to replace aging and obsolete IVA-81A and IVA-81D IVSI units in Part 25 aircraft by utilizing the IVSI version of Garmin's GI 275 Electronic Flight Instrument.
The STC allows the Garmin dealer to install the GI 275 IVSI on any aircraft on the AML, offering an alternative to the costly option of repairing older unreliable IVA-81A/D IVSI units. In addition, the GI 275 allows operators to upgrade to a lighter, brighter, current production unit with possible future upgrade options and continued support.
The STC approves removing and replacing a single or dual IVA-81A/D IVSI units. The customer can install two new GI 275 units or retain a single IVA-81A/D and replace the other existing IVA-81A/D with the GI 275. This option will provide customers with a more cost-effective and flexible upgrade path for some aircraft.
The GI 275 IVSI STC covers three different interface scenarios for the required air data input to drive the IVSI needle. This offers the installer flexibility for most upgrade situations.
"We're thrilled to work with Southeast Aerospace on this STC, which will provide the GI 275 IVSI replacement for a variety of Part 25 aircraft," said Carl Wolf, Garmin vice president, aviation sales and marketing. "The GI 275 upgrade will offer operators a modern and cost-effective replacement solution to avoid the high repair costs and ongoing obsolescence associated with legacy IVSI on these aircraft."
Specific TCAS II Systems supported by this STC include the Bendix King CAS 6X(X), CAS 100(X), and Garmin GTS 8000. Lightweight and compact, the GI 275 is intentionally designed to take advantage of the common 3.125-inch flight instrument size, reducing installation time and preserving the existing aircraft panel.
SEA has designed a 3-ATI to 3-inch adapter plate to allow for an easy upgrade to the GI 275 IVSI into the standard 3-ATI cutout. The adapter plate will be available for purchase with the STC. SEA is also supplying an adapter wiring harness that will plug into the existing IVA-81A/D connector with no additional wiring required in most cases. The adapter plate and pre-built harness will also allow quick-turn, in-the-field upgrades for AOG situations.
Luke Gomoll, SEA Aircraft Modifications Sales Representative, stated, "We are excited to be able to provide a quick-turn and a non-invasive upgrade option for aging legacy equipment while also offering a product that has a long life ahead with possible features expansion in the future."
TJ Spitzmiller, VP of Business Development with Peregrine, noted "Our relationship with Southeast Aerospace continues to bring additional avionics capability to meet market demand. The versatility of Garmin's products such as the GI 275 is yet another exciting addition to their lineup."
Southeast Aerospace's Part 25 AML IVSI STC is available for an expansive list of business aviation aircraft, including Learjets, Citations, Hawkers, Gulfstreams, Challengers, Falcons, and more.
For more information, please visit
https://www.seaerospace.com/air-mods/Garmin-GI275-STC
or contact Aircraft Modification Representative, Luke Gomoll,
luke.gomoll@seaerospace.com
.