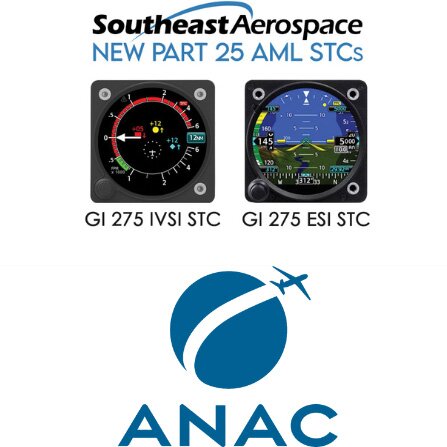 Southeast Aerospace (SEA) is pleased to announce that we have received Brazil's Agência Nacional de Aviação Civil (ANAC) validation for our GI 275 ESI and IVSI Part 25 Approved Model List (AML) Supplemental Type Certifications (STC).
SEA received Federal Aviation Administration (FAA) Supplemental Type Certificate (STC) approval in Q1 2023 for Part 25 aircraft. Approval was granted for the installation of the Garmin GI 275 3.125-inch round display Electronic Flight Instrument in Part 25 aircraft on an Approved Model List as an Electronic Standby Instrument (ESI) and as an Instantaneous Vertical Speed Indicator (IVSI). The FAA issued STC number ST01985WI and ST02004WI, respectively.
The ESI version of the Garmin GI 275 electronic flight instrument offers an all-in-one option to replace pre-existing, obsolete, higher-cost ESI and mechanical standby instruments, while the IVSI version of the GI 275 electronic flight instrument offers the opportunity to replace aging and obsolete IVA-81A and IVA-81D IVSI units.
"With the Brazilian ANAC validations, Brazilian registered business jet owners and operators can resolve those obsolescence issues and take advantage of the features and benefits of having the Garmin GI 275 on their flight deck. This latest foreign validation, plus more in the works, increases the relevancy of our two Part 25 AML STCs for installation of the GI 275 as an ESI and an IVSI in the global business aviation market," said Luke Gomoll, SEA's Aircraft Modifications Sales Representative.
SEA's Part 25 AML ESI and IVSI STCs are available for an expansive list of business aviation aircraft, including Learjets, Citations, Hawkers, Gulfstreams, Challengers, Falcons, and more.
For more information, please visit https://www.seaerospace.com/air-mods/Garmin-GI275-STC or contact Aircraft Modification Representative Luke Gomoll at luke.gomoll@seaerospace.com.