SEA is pleased to offer the current-generation Universal InSight Integrated Flight Deck 3-display EFIS upgrade for the Hawker 800 series aircraft. InSight offers the latest in Universal Avionics innovation and technology achievements.
For this upgrade, much of the existing Collins or Honeywell flight decks are removed, making way for more capable hardware. As a result, a new SEA fabricated instrument panel will be installed to accommodate all of the new upgrades. Though complex to build, this new instrument panel will be constructed prior to aircraft arrival to offer the shortest down time possible for the aircraft's InSight upgrade.
When configured in the Hawker 800 series aircraft, the baseline InSight EFIS system will consist of the following new equipment:
3 ea. EFI-1040 10.4" High-Resolution Display (2 PFDs, 1 MFD)
2 ea. EFIS Control Display Unit (ECDU)
2 ea. Universal UNS 1FW Flight Management System (FMS) NCU
1 ea. Universal Solid State Data Transfer Unit (SSDTU)
2 ea. GPS/WAAS Antenna
2 ea. Alphanumeric Keyboard (ANK)
1 ea. Data Concentrator Unit II (DCU)
1 ea. Cursor Control Panel (CCP)
1 ea. Reference Select Panel (RSP)
1 ea. Mid-Continent Instrument MD 302 SAM (ESI)
The existing engine instruments, Collins/Honeywell radio suite, and autopilot system will be retained and interfaced to the newly installed InSight system. All of the retained equipment is still fully supported and will be for many years to come, which helps save on cost for the overall upgrade. Aside from solving the problems of obsolescence and capability limitations, the InSight EFIS brings a large number of new features, capabilities, and enhancements. To begin with, each EFI-1040 PFD will replace up to four old CRT type displays with the ability to display much more information in an eye pleasing format. High-resolution Synthetic Vision System (SVS) is included, which allows for a very detailed 3D map overlay directly on the PFD - land features, including water, terrain and even ice show up. Advanced airport views are also included – runways, taxiways, hold lines and more. Each PFD includes two pilot configurable inset views at the bottom of the display. Configurable display options include alternate SVS view, flight plan info, map, and more.
Other features to be expected on the PFDs are as follows:
Autopilot (AP) Flight Director – what you see is what the AP is flying to
WAAS LPV capability, AP coupled – Magenta Needles!
Airspeed, Altitude Tapes and VSI
Airspeed and Alt Select
Enroute VNAV
HSI w/ Heading Select
Swap AHRS and ADC 1/2
Waypoint Information
Aircraft Attitude with Pitch and Roll Pointers
Autopilot Mode Annunciations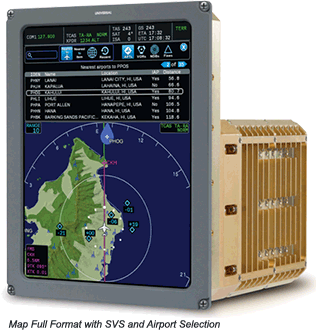 The center InSight display will be configured as an MFD. The MFD can be easily configured to display numerous types of information through the simple use of the Cursor Control Panel (CCP). The CCP provides a point and click cursor on the display for quick changes on the fly. Configurable MFD display options include a rich map view with numerous map feature overlay options, electronic charts display, traffic, 3D view using SVS with aircraft model out front, flight plan waypoints, and more! Utilizing the existing weather radar system, this new MFD will fully interface and provide a better-than-ever view about the storms ahead. Primary control for the new Universal InSight EFIS is handled through dual EFIS Control Display Units (ECDU), dual Alphanumeric Keyboards (ANK), and dual Cursor Control Panels (CCP). These components allow for the easy configuration of display views, flight plan creation and editing, radio tuning control, navigation source selection, sensor source selection, fuel flow information, and much more. The ECDUs, ANKs, and CCPs will be installed in the same location as the removed FMS display units.
The Universal Reference Select Panel (RSP) will be mounted in the location of the removed Collins/Honeywell Display Select Panels on the eyebrow panel. The RSP provides a quick and easy way to make adjustments to the airspeed, altitude, and heading bugs, plus more on the PFDs. A new custom panel will be made for the eyebrow panel to assist in the overall clean look of the finished product.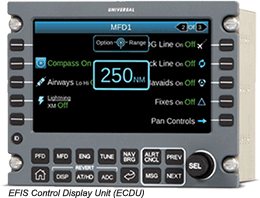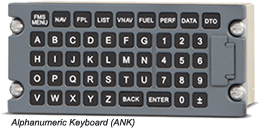 Addressing another growing issue of support and maintenance costs for existing first generation electronic standby instruments and aging mechanical standbys, SEA is pleased to offer the Mid-Continent Instruments MD 302 SAM ESI. The MD 302 SAM offers a built-in and compliant source of back up ADI, Airspeed, and Altitude, including internal battery backup in the case of loss of aircraft electrical power. The MD 302 SAM saves space, weight and adds reliability over electromechanical instruments and early generation electronic standbys.