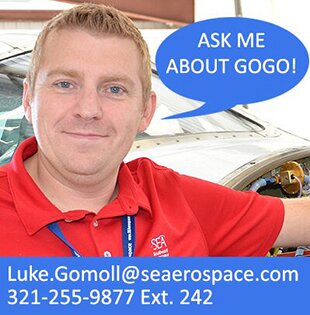 When it comes to US domestic business aviation connectivity needs, the Gogo Avance product lines are a great choice. Replacing the last generation ATG 1000, 4000, and 5000 products, the new Avance L3 and L5 bring great new updates, features, and performance. Aside from providing internet connectivity starting at 3000' AGL, both Avance L3 and L5 feature their own built in Wifi routers utilizing the 2.4 Ghz and 5Ghz frequency standards allowing for accommodation to all current generation PEDs. They also both feature a built-in media server. This paired with an active subscription to Gogo Vision+ or 360 allows for use of a rich 3D moving map display, and access to movies, shows, periodicals, news, and weather. A built-in terrestrial modem allows internet connectivity to the Avance L3 and L5 while on the ground. This means that when you are on board the aircraft while taxying you may be connected to the L3 or L5 and have seamless internet connectivity. The terrestrial modem also seamlessly takes care of updating the built-in media server content and Digital Rights Management files.
AVANCE L5
The major difference between the Gogo Avance L3 and L5 systems is connectivity speeds or bandwidth. The Avance L5 provides a 4G internet connectivity experience. This means that streaming video, video conferencing, and much more is very possible on your aircraft with the L5 system installed. The Avance L5 can also handle up to 45 connected devices at a time with an optional upgradeable feature that expands the connected devices to 90. This makes the Gogo Avance L5 a feasible option for even the largest business jets along with some regional airliners.
AVANCE L3
The Gogo Avance L3 system is considered a 3G capable internet solution. This system comes in 3 different configurations that are upgradeable in the field via software. The Avance L3 CORE provides a "Basic" internet connection to up to 5 devices at a time. "Basic" means simply email, texting, and light internet browsing is allowed. The Avance L3 PLUS brings "Full" internet connectivity to the full 3G experience allowing heavier internet browsing and other services that require higher bandwidth, but not video streaming. The Avance L3 PLUS also allows up to 7 devices to be connected at any time. Lastly, the Avance L3 MAX allows up to 15 devices to be connected with "Full" internet access.